Thunderhill 5-Mile, November 16, 2020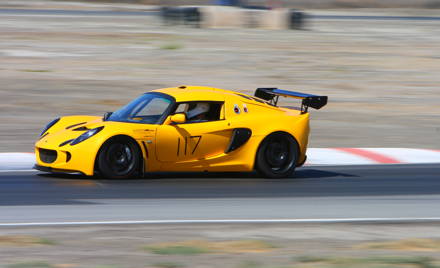 Golden Gate Lotus Club
Monday, November 16, 2020
Thunderhill Raceway Park
,
Willows

,

CA
Registration closed November 15, 2020 8:00 PM at 2020-11-15T20:00:00-0800 Registration ends November 15, 2020 8:00 PM at 2020-11-15T20:00:00-0800 Registration opens October 3, 2020 12:00 AM at 2020-10-03T00:00:00-0700 Registration runs from October 3, 2020 12:00 AM to November 15, 2020 8:00 PM
Come join the Golden Gate Lotus Club for this open track event on the full 5-mile course at Thunderhill Raceway Park on Monday, November 16  2020.
All types of cars are welcome at our events. 
Price is $230 for members and $250 for non-members.  You can become a GGLC member for $25 when you register and take the member discount immediately. 
This event will be divided into 2 groups with approximately 30 minute sessions each.     The two run groups will be Open Passing Group for experienced drivers with 15+ track days/racing experience or equivalent, and Restricted Passing Group for drivers with 1-14 track days experience.   Sign-up for whichever group is appropriate for your experience level. If you sign up for a particular group and decide at the track that you are not comfortable, then ask a GGLC official to switch groups, we can usually accommodate this.
Open wheeled cars will be allowed only in the Open Passing Group.
Due to the Coronavirus, there will be no GGLC-provided coach for Beginners since this would require us to put a coach in your passenger seat.  However, if you are a Beginner (zero track days experience) and would like to join, and you can find a qualified (GGLC-approved) coach from within your own family, then you may join by contacting the GGLC and we will add you to the Restricted Passing Group.  Note, we will still be limiting this to only 3-4 Beginner slots. 
We will run the event run rain or shine.  Cancellations before 11/2/2020 will receive a credit for a future track day which will be good for one year from the cancellation date.  Cancellations after 11/2/2020 will receive a credit ONLY if the event sells out.
We will not conduct a tech inspection on your car.   You are solely responsible for the safety of your car.  However, the Golden Gate Lotus Club reserves the right to reject any vehicle if we deem it unsafe or mechanically questionable. 
For drivers experiencing mechanical failures that result in dropping oil on the track, damage to track property such as broken brake markers, etc., and deployment of the fire truck which results in any additional charges to us for clean-up, repair to track property, etc., we will consider whether to pass on these additional costs to the responsible driver on a case-by-case basis.
Open top cars MUST have a roll bar that attaches at four locations on the body/chassis. Decorative, or "Style Bars" are not allowed. Factory installed roll-over protection including pop-up bars are allowed.  Drivers of open top cars must wear eye protection. You must have at least a three-point seatbelt to enter the track, older cars with only a lap belt will not be allowed on track.
Passengers will not be allowed unless they drove to the track in the same car with you and must be at least 18 years old.
All cars must have numbers on both sides for Identification.  Pick any number.  Digits must be 6" tall minimum.
Please use the MotorsportReg website and your credit card to register and pay for your entry.