Lotus Club Streets of Willow, October 15, 2022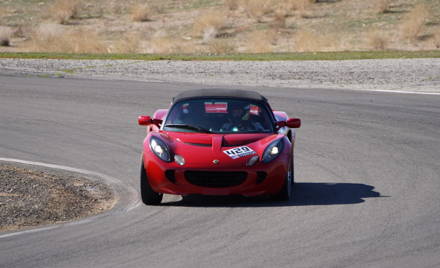 Golden Gate Lotus Club
Saturday, October 15, 2022
Streets of Willow Springs
,
Rosamond

,

CA
Registration closed October 13, 2022 11:59 PM at 2022-10-13T23:59:00-0700 Registration ends October 13, 2022 11:59 PM at 2022-10-13T23:59:00-0700 Registration opens January 3, 2022 12:00 AM at 2022-01-03T00:00:00-0800 Registration runs from January 3, 2022 12:00 AM to October 13, 2022 11:59 PM
Lotus Club of Southern California is holding a track day at Streets of Willow on October 15, 2022. Lotus Club of Southern California events are capped at a limit of 45 cars TOTAL.
Drivers will be divided among three run groups. Attendees are guaranteed to have an awesome track day with all the track time a driver could ever hope for. With such a low car count, we offer a normal track day's worth of driving time in half a day. Additionally, we plan to offer a COMPREHENSIVE BEGINNER CURRICULUM for drivers that have no track experience at this event.
Reasons to run with us:
· LOW car counts per run group. Ever get frustrated that your track time is just spent in traffic? Our run groups are 15 cars or less, not the 25-30 of other events. With about half the number of cars per group, drivers are sure to be able to find plenty of clear track.
· LOW total car count. As mentioned, we cap the event at 45 cars. This means that you'll get over an hour of track time in the morning, and over an hour of track time in the afternoon, minimum. Typically, drivers end up with about three hours of driving time for the day; more than twice that of most organizations.
· SAFE AND FRIENDLY environment. We're a club that emphasizes track safety. If you're a beginner looking to just begin tracking, we help provide instruction and an environment you'll be comfortable with. If you're a seasoned driver, our low key atmosphere ensures a fun filled day.
Pricing is $205 for members and $225 for nonmembers, if you register before September 15. Pricing changes to $225 for members and $245 for nonmembers on September 16. If you are not a LCOSC or GGLC family member, you can become a LCOSC member for $25 when you sign up and take the member discount immediately.
We will be running British Racing Green, Gold Leaf, and JPS Black run groups.
> JPS Black group (advanced) is for experienced drivers with 15+ track days/racing experience or equivalent who are comfortable with open passing conditions.
> Gold Leaf group (intermediate) is for drivers with a minimum of 3 track days experience and will be point-by passing only, anywhere on track.
> British Racing Green group (novice) is open to all drivers and will be point-by passing on the main and back straights. Drivers with no track experience should register in British Racing Green and e-mail lcosc@gglotus.org to request special beginner's instruction.
Our driver's meeting will be held virtually. If you test positive for COVID-19 within 5 days of the event or are suffering COVID-19 symptoms, please let us know and we will issue a full discount or credit. This is especially important if you will be working with an in-car coach.
All types of cars are welcome to attend. Formula cars will be allowed in the JPS Black group only. Convertibles must have roll-over protection that mounts at four points. No "Style Bars" will be accepted. Factory installed roll hoops are acceptable.
We will not conduct a tech inspection on your car. You are solely responsible for the safety of your car.
Helmets are required and must be Snell SA2010 or later.
The Willow Springs gate fee is not included in the registration fee. It will be collected by the track at the gate.
We will run the event rain or shine. Cancellations before October 1 will receive a credit for any future GGLC run track day (LCOSC is a subsidiary of GGLC) which will be good for one year from the cancellation date. Cancellations after October 1 will receive a credit ONLY if the event sells out.
We are using an on-line waiver on SpeedWaiver - https://gglotus.speedwaiver.com/pkyhr
We have a low registration limit to ensure the best possible track day experience, so register now! We hope to see you on track!